Ultrasonic waves for effective treatment
Wastewater contaminated with micro-organisms is often treated using a UV reactor. The UV lamps in this reactor produce intense radiation of ultraviolet wavelengths. PureBlue has found a way to make this process more efficient, while keeping the UV system working optimally for a long time.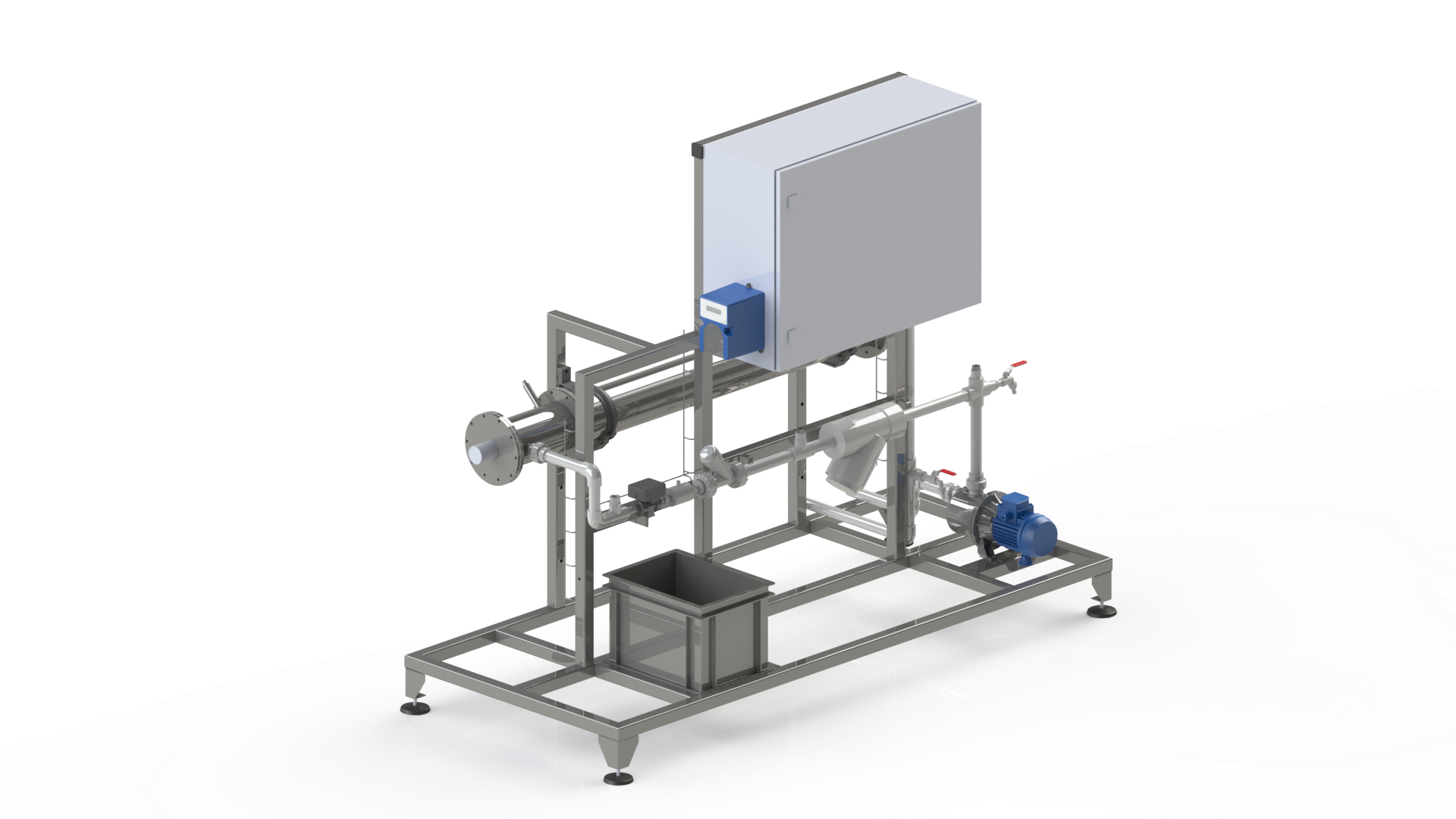 An ultrasonic system
Ultrasonic waves are high-energy vibrations with frequencies higher than 20,000 Hz. Ultrasonic is used in medical laboratories, among others, for cleaning instruments. PureBlue has integrated this technology into all UV equipment, including the SonoForce, SonoFlux and HydroForce. The ultrasonic system has multiple functions:
Ensures the optimal mixing of hydrogen peroxide and the water in the UV reactor. This makes treatment more efficient and effective, even at low flow rates.

Continuous cleaning of the UV quartz tubes guarantees secure operation of the UV lamps.

Excellent performance even in water with high nutrient and organic pollution (low UV transmission)
The design of the UV reactor has also been improved using computational fluid dynamics. As a result, the high treatment efficiency is also achieved in discharge water with high nutrients and organic pollution, or water with low UV transmission. Thanks to this clever design, investment and operational costs are much lower.
What are the biggest advantages of this innovation?
The compact SonoForce system (UV reactor) takes up little space and has a low CAPEX. In addition, the system has higher efficiency thanks to the elimination of short-circuit currents in the UV reactor at low flow rates, resulting in a low OPEX. Thanks to the ultrasonic system, the UV quartz glasses are cleaned for a long time and continuously. The system works optimally even at low UV transmissions. Moreover, no chemicals and/or acids are required for CIP thanks to the high-energy vibrations with frequencies above 20,000 Hz.
Examples where this innovation has been applied
Our SonoForce relies on this UV technology. This system is now already widely used in greenhouse horticulture. Here, the water is treated of plant protection products and disinfected at the same time so that the water can be reused for crops. The innovations realise their full potential in this sector because used water in greenhouse horticulture is often highly contaminated and thus has low UV transmission (approx. 10% UVT). Even under these conditions, our UV technology can break down more than 95% of pesticides while keeping the quartz sleeves clean.
This innovation is also used in various industries, for example for continuous disinfection applications without loss of efficiency due to systematic organic or inorganic fouling (e.g. preventive legionella control), or for the removal of recalcitrant chemicals that enter wastewater during normal operations. Also decentralised wastewater treatment plants for hospitals, our UV/H202 technology can be an important solution for e.g. sustainable and low-maintenance degradation of medicine residues.